Tech Tips
Does SwedeTech Provide Dyno Horsepower Numbers?
February 20, 2017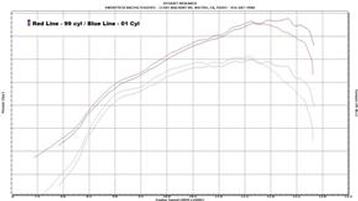 Does SwedeTech Provide Horsepower Numbers?
Swedetech will provide a dyno sheet upon request. However, we do not supply the actual horsepower output. When viewing your Dyno Sheet from SwedeTech Racing Engines, the first question you might ask yourself, "Where Are My Dynamometers Horsepower Numbers?"
Great question! We don't supply dyno numbers. We do not want to understate the importance of having the proper tools and equipment to build a racing engine and the dynamometer is a huge asset. However, we want to educate our customers on when the dyno numbers are important.
Like any quality measuring device, Dynamometers provide extremely useful data that can be very difficult to measure in a working environment. Dynamometers help bring a standard while testing many different components. There are many variables that will affect the actual numbers that are given by a dynamometer. Weather, humidity, air temperature, changing dynamometer parts, changing software settings, process used during a power pull, timing of software sampling, load applied by dynamometer, belt or chain tension, and many other variables.
SwedeTech does not try to hide our Horsepower numbers. We do however want to minimize as much confusion as possible when it comes to the information we provide. The only accurate way to compare horsepower is to minimize as many variables as possible.
For example, when we compare our dyno numbers, we run multiple test runs in succession, in the shortest time frame possible. This minimizes many variables. We have seen horsepower variances from one day to the next, with no changes made to the engine or the dyno. Many times this is due to atmospheric conditions, but this is an added variable.
When reading your dyno Sheet, we provide you with the essential information. We provide you with RPM's and the power curve. From this information, you can properly assess the best operation range for your engine. Depending on different tracks and air conditions, you may have to run your engine in different rpm ranges to maximize on track performance.
Some tracks or some sections of a track may require you to use a lower rpm range to maximize the time you spend in the sweet spot or the power band. Other times, you may have to gear the engine to run at the upper RPM range to take full advantage of the gearing and power band.
Keep in mind that there is never a perfect rpm range for all racing conditions. Every track will have its own unique characteristic that will affect the engines optimum performance. An often over looked aspect of the engines rpm range is how it can affect the handling of a chassis, or vice versa. When you are driving your kart, it is very physical and mental, and at the same time it is a delicate dance between the driver, chassis and engine.